A Notary, or Notary public, is a "public ministerial officer," an agent for the state, and a witness of notarial writing and signatures. A notary public in the State of Georgia, one must be an honest, moral, and responsible member of our society. Notaries are appointed by the the State in the county where they reside or may work by that county's Superior Court Clerk and must take an oath and sign a written acknowledgement called a jurat under seal.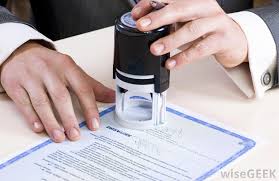 Social Concepts and Development Services offers notary services, for individuals, businesses, and government agencies in the City of Austell and Cobb County Georgia.
Documents are notarized in order to deter fraud. A Notary Public as an impartial third-party witness ensures that the signers of a document are who they say they are and that they signed the document under their own free will.
The most common service a notary public renders is taking an acknowledgement. An acknowledgement is a person's sworn statement that he or she signed a paper by his or her own free will. To do this, a notary must verify the signer's identity, apply his or her seal to the document, and then sign it.
Notary Services Fee:
Executing affidavits                 $2.00
Executing verification's             $2.00
Executing acknowledgements    $2.00
Executing certificates               $2.00
Administering oaths                  $2.00
Taking depositions, per page     $2.00
Call for an appointment (770) 485-1333 or (678) 338-9687
Additional charges, such as ADMINISTRATIVE FEES, are determined by the local notary.
Mobile notary service available:
1 to 25 miles $25.00 to $45.00 (Weekend Rates $45.00 to $75.00)
Please note:  It is rare, but there are times when we cannot notarize a document as requested. We require that the document NOT be signed prior to our arrival, or that it be resigned if already signed. Since the signer is always required to appear personally before the notary, we cannot provide notarization via fax. We also must decline to pre/post date document notarizations. Please understand the distinction between the document date and the notarization date. The document date is the effective date of the document and is of no concern to the notary. The notarization date is the actual date the signer appears before the notary and must be accurately reflected on the document.
"NOTE: THIS NOTARY IS NOT AN ATTORNEY LICENSED IN THE STATE OF GEORGIA, AND MAY NOT GIVE ANY LEGAL ADVICE OR ACCEPT FEES FOR LEGAL ADVICE."